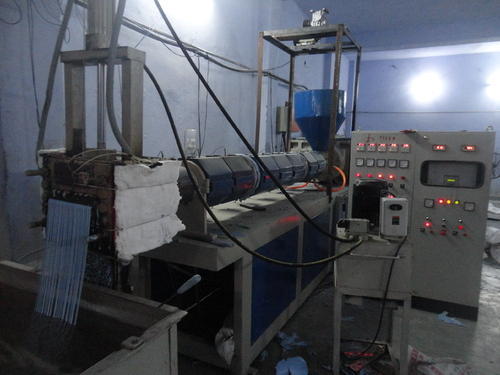 Plastic Recycling Extruder
Product Description
Product Details:
| | |
| --- | --- |
| Available Material | HDPE, LDPE, PE, PP |
| Output(kg/hr) | 100-200, 200-300 |
| Operation Mode | Semi-Automatic |
| Type | RECYCLE EXTRUDER |
We are offering Plastic Recycling Extruder to our clients.
Dear sir
OFFER OF VENTED REPROCESSING PLANT MODEL S-115-225-250 FOR PP,ABS,HIPS,CRYSTAL
A.EXTRUDER:-
1. Frame :-Rigid frame made from channel & Sheet
2. Screw:-115MM Made of Alloy steel EN41 B ,Nitrided ,hardness 65RC ,Mirror
Polished,LD Ratio 32:1
2a. Barrel :- 115mm Made of Alloy Steel EN41B,Nitrided and hardness 65 RC,Grinding
and honning.
3. Main Motor:- 60 hp,1440 RPM AC(Cropton / Kirloskar/Havels )
4. Gear Box :- Helical gear box 225
5. Output:- 225-250kg/hr ( Depend on material)
6. Cooling Arrangement:- It is provided at the base of the hopper on the barrel of the extruder. barrel all zone will be cooled by blower
7. Heater ceramic
8. Vccum pump:- 5hp with fitting
B.PANEL
Make of MS Sheet Switch gear (BCH OR L&T)
1. 12 NO Digital Temperature controller
2. 12NO Contactor make 16AMP
3. 12NO Amp. Meter 0-30amp
4. 1No Volt Meter 0-500V,and 1No Amp. Meter 0-100 A,
5. Phase Indicator and on /of f switch
C. HYDRAULIC SCREEN CHANGER
1. Materail alloy steel
2. Hydraulic operated
3. 3hp power pack with standard make motor and hydraulic component
4. Screen dia 254MM
5. Heater
D.Water tank: 19"19" *7' ss material
E. Stand Cutter:-8" with 5hp motor and starter
E. Grinder with Motor and Starter
Grinder Size 24",Blade Size 18",Motor hp 40
Price (Rs).2,20,000/-
F. High speed mixer with motor and starter, sheet 12mm,ms
Mixer 125kg,size 30"*32",motor 40
Price Rs 1,55,000/-
G. WASHING MACHINES with motor and starter
One washing machine round Type, dia 915(3') height 1220(4') blade spring steel, output 250kg/ body ms sheet 8mm, base 10mm,with housing ,30312, 30313pully 24"3c, housing, motor pully 6"3c , zali plate 6mm, hole 6mm,Motor 25hp ,960 rpm
Price Rs 1,55,000/-
H. Hydro Machine with motor and starter
Hydro machine size dia 18inch* 12inch hight ss zali, base ms sheet, with 2hp motor standard make
Price Rs 33000/-
Total Price (Complete plant) Rs 18,63,000/-
Terms & Condition
1. Price :- Ex works Delhi.
2. Taxes:- Extra.
3. Payment :- 50 % Advance and balance payment and taxes with "C" form againt delivery at our works.
4. Delivery :- 8-10 Weeks.
5 .Order will not be cancelled any condition.
6. Warranty-
All parts/Material / machine/ manufactured are guaranteed against defects in material and workmanship under normal use and service conditions. Should any part made by us prove defective with one year the same shall be repaired or replaced by us at no additional cost.
Contact Us
A-72, Hari Enclave, Sultanpuri, Delhi, Delhi, 110041, India
Phone :+918045479262