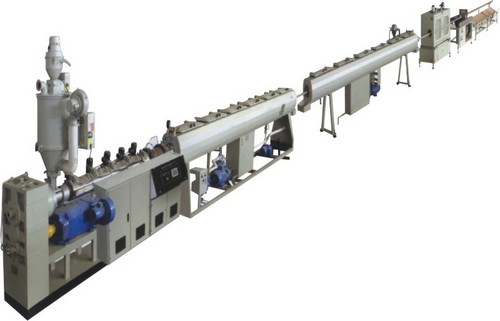 PPR Pipe Plant
Product Description
We have marked a special position for ourselves in the market by exporting and supplying a qualitative range of PPR Pipe Plant. Offered range is a water supply pipe, used in construction. Entire stock is manufactured by using optimum quality of raw materials sourced from prime vendors of market. This range is mainly used for producing pipe from raw material PPR resin. Our PPR Pipe Plant is of durable quality and ideal for heavy duty performance.
Features:

Light weight
Low heat conduction
Strong and durable structure

PP-R PIPE

ADVANTAGES OF PPR PIPE

PPR-C stands for poly Propylene Random Co Polymers. It is a water supply pipe, used in construction. It is an internationally approved, high quality, environmentally friendly and energy saving pipe.
It is Lightweight: Density is 0.89-0.92g/cm3, only1/9 of steel pipe, therefore easy to transport and install.
Fine anti-heat performance: It is resistant to extreme heat/cold and will not deform or give in between-20 C to 95 C environmental temperatures.
Good anti-corrosion property: It is resistant to corrosion, it does not rust,decay or recode.
Low heat conduction factor: heat conduction is 0.23-0.24w/ mk at 20 C, it is much lower than that of galvanized steel pipe.
It endures to heat and high climatic temperatures. It reserves its original from, flexibility and chemical properties at high temperatures.
Firm pipe fittings connection: Because polypropylence has fine thermal casting performance, thermal casting between the pipe and pipe fittings with the same material as a integration, it can prevent water from leaking.
The friction correlation is very low, the surface is clean and smooth and will not hold other particles to fill in canvities.
Reasonable Price: The price of PP- R pipe is near to that of galvanized pipe. The adhesion is very simple and easy by fusio-therm welding. Adhesion is firm and will not effect the inner diameter. In the three layer PPR pipe, the inner layer is anti bacterial and the outer layer in UV (ultra Violet) rays resistant layer. It can be safety used for a duration of minimum 50 years. It is resistant to long term not water transmission and under normal environmental conditions it endures operational heat 70 C-95C. It does not absorb water, therefore may be safely used in hot temperatures and humid climates.
APPLICATION: This line is mainly used for producing pipe from raw material PPR resin. It is also suitable for producing pipe of materials PP, PPB, PPH resin.
Contact Us
A-72, Hari Enclave, Sultanpuri, Delhi, Delhi, 110041, India
Phone :+918045479262